Shane Rivers – Movie Critic Interviews
Tuesday, June 23, 2009 at 4:34 pm
Here at Only Good Movies, we're about to launch another great feature for your reading enjoyment. Titled "Critical Juncture," it takes the form of interviews with some of the Internet's many movie critics. From the critical celebrities to the guys and gals you've never heard of, this series of twelve questions will always remain the same, thus allowing you to compare and contrast the answers from various participants. Since I would never ask anyone to do something I wouldn't do myself, I thought I'd get the ball rolling as the first subject of Critical Juncture. Here goes nothing…
1. What's the first movie that you remember seeing?
That would be The Life and Times of Grizzly Adams. I was only three at the time, but I vaguely remember it because it was the only time that I ever went to the movies with both my parents and grandparents.
2. What's the most recent movie you've seen?
I've been watching anime episodes of Black Lagoon and Speed Grapher lately, but the last full-length movie I've seen would be Year One. In fact, you can read my review of it right here.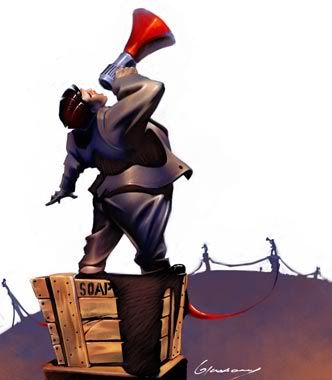 3. Is there a particular film which you feel is criminally underrated?
One that comes to mind is Kiss Kiss Bang Bang, starring Robert Downey Jr. and Val Kilmer. The dialogue crackles with energy, and it smoothly melds together the comedy and hard-boiled detective genres. A few others include Kontroll, a Hungarian film which takes place in the Budapest Metro; Exorcist III, which is about as good a horror film as you'll ever see; and Glengarry Glen Ross, starring Jack Lemmon, Al Pacino, Ed Harris, Kevin Spacey, Alan Arkin, Alec Baldwin and Jonathan Pryce.
4. Which director do you feel has turned out the best overall body of work?
While Martin Scorsese and John Ford would have to be strong contenders, I'd vote for Steven Spielberg. From war films to sci-fi and adventure, some of the most enduring cinematic images and characters are due to Spielberg's keen eye and understanding of how film affects us on an emotional level.
5. From an artistic standpoint, which film do you think is most important?
Without a doubt, it would have to be Citizen Kane. From camera shots and angles to makeup and soundtrack, the film is absolutely littered with innovations.
6. All artsy considerations aside, which movie is your personal favorite?
That's a toss up between two John Carpenter films: The Thing and Big Trouble in Little China. I love the sense of isolation and dread in The Thing (not to mention the badass cast), and Big Trouble in Little China is just absolute fun from start to finish. Kurt Russell is also excellent in both of these movies.
7. In your opinion, which film is entirely overrated?
Casablanca. I'm not saying it's a bad film, but I don't really think it deserves the status of second-best American movie behind Citizen Kane.
8. Have you ever walked out of the theatre during a film? If so, what movie was playing?
I've never entirely walked out on a movie, although I have taken some long cigarette breaks during movies like Titanic and Kill Bill. At home, I've played a few movies at double speed to get through them, but I can't think of one that I've just never finished. I'm a glutton for punishment, I guess.
9. In your mind, what's the ultimate goal of a movie critic?
Simply put, their ultimate goal is to tell the reader what the movie is about and whether or not it's any good. It's also helpful if the reader doesn't have to keep a thesaurus by their side while reading the review.
10. Time to look into the future. Do you predict any major changes for the movie industry over the next 25 years?
I'm predicting that movies will eventually be available via pay-per-view at the same time they're playing in the theatres. This may eliminate some theaters, but they won't disappear entirely, as people still enjoy getting out of the house. New release movies will probably also be available via pay-per-view on the internet and portable devices like the iPhone. As CGI characters in film become more sophisticated, I wouldn't be surprised to see more and more studios favor artificial (and virtually free) actors over the live variety.
11. Here's another chance to predict the future. Name a relatively unknown actor or actress who'll be a huge star within five years.
Lucas Till. I've been seeing this young man in a number of films lately, including Hannah Montana: The Movie and Laid to Rest, and he seems to have a certain star quality about him. I could be wrong, but he's my pick to become a big celebrity within the next few years.
12. Besides yourself, who's your favorite movie critic to read?
That honor would have to go to James Berardinelli. I enjoy his reviews because he gets right to the point and doesn't spend half the review trying to dazzle me with his ability to construct clever sentences or use archaic words.
One Response to "Shane Rivers – Movie Critic Interviews"