X-Men Origins: Wolverine – 50 Sites about X-Men and Wolverine
Monday, May 4, 2009 at 10:29 am
Are you a fan of all things related to The X-Men and Wolverine? If so, you may want to kill some time, and brain cells, by looking through these excellent links. There are a total of 50 sites about the X-Men and Wolverine, so knock yourself out, bub!
Official X-Men and Wolverine Sites
These are sites straight from the movie studios and comic book companies.
1. X3 The Last Stand – Official site for the third X-Men movie. Download desktop pics, mobile games, and order widescreen and collector's edition DVDs.
2. Official Marvel Comics Site – Website of Marvel Comics, creators of The X-Men, Wolverine, and superheroes such as Spider-Man, Captain America, Iron Man and The Incredible Hulk. Includes news, interviews, forums, an online store, and much more.
3. X-Men Origins: Wolverine – Official site of the X-Men spin-off featuring Wolverine. Watch trailers and interviews with the cast, download wallpaper and pictures, play games, and so much more, bub.
4. X-Men Origins: Wolverine Official Video Game – Site dedicated to the video game tie-in for the film. Get info on the game, watch videos, view galleries, order at the online store, or talk to other video game fans on the community forum.
5. X-Men Origins: Wolverine Official MySpace Page – Includes links to the offical X-Men Origins: Wolverine movie site and offical X3 The Last Stand movie site. A ticker is also counting down the time until the release of the Wolverine movie on May 1st.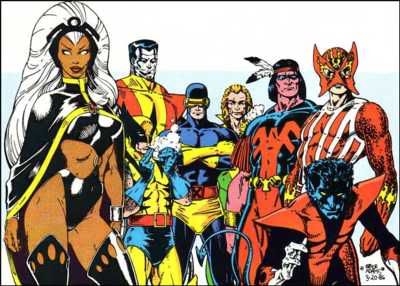 X-Men and Wolverine Fan Sites
6. X-Men Fan Site – From the comics to the movies, this site covers everything related to the X-Men, Marvel's mutant superteam. Chat with fans, buy X-Men merchandise, and even view their selection for "Mutant of the Month."
7. Uncanny X-Men.net – Read about friends and foes of the X-Men, get the latest news on the X-Men movies, and view cover art from many of the most famous X-Men comic book issues.
8. UX-Gal – A fan art gallery devoted to the Uncanny X-Men. Includes a picture gallery and X-Men smileys.
9. X-Men Fan Site on Twitter – Twitter is sweeping the nation, and it's only appropriate that the X-Men should have a place on this social media network.
10. X-Man The Charles Xavier Fanlisting – If Professor X appears in an X-Men comic book, cartoon, movie or book, this site's going to be talking about it.
11. The Logan Files – Covers every aspect of Wolverine, from the cartoons to the movies. They even have their own YouTube channel to allow you to keep up with all the latest Wolverine news.
12. The Wolverine and Jubilee Page – A fansite devoted to Wolverine and his good buddy, Jubilee.
13. Wolverine & Rogue – A site dedicated to the on-screen romantic tension between Wolverine and the lovely Rogue.
14. The Wolverine Page – Includes a Wolverine picture gallery, online store, and links to other excellent Wolverine sites.
15. Wolverine's Realm – This Wolverine fansite offers interesting facts about Wolverine, plus his enemies and allies. Polls, picture galleries and sound galleries are also included. And don't forget to check out the price guide for various comic books featuring everyone's favorite Canadian badass.
Blogs Featuring X-Men and Wolverine
There are lots of blogs all over the internet, and it's amazing how many feature news and articles about Wolverine and/or The X-Men. Here are some of the best:
16. The Hot Blog – David Poland features a review of X-Men Origins: Wolverine.
17. Cinema Blend – For those new to the clawed superstar of the Marvel Universe, this site provides a "Virgin's Guide to Wolverine."
18. Awesomely Bad Wolverine Costumes – NextRound.net offers this collection of pictures highlighting really dorky-looking Wolverine costumes.
19. Funny Book Fanatic – Hugh Jackman talks about Free Comic Book Day. A trailer for X-Men Origins: Wolverine is also available, plus tons of news about other comic book titles and characters.
20. Mendelson's Memos – Another review of the new movie featuring Hugh Jackman, X-Men Origins: Wolverine. Scott also weighs in on a number of other pop culture topics.
21. Thundersquee! – News about the promotional tour for X-Men Origins: Wolverine. This site also features enough pop culture and politics to choke a camel to death. And if you've ever choked a camel to death, you know that's a helluva lot!
22. Movie Marketing Madness – Opinions and news about how movies are marketed to the public.
23. Splash Page – MTV's site dedicated to comic book movies. Read all about the X-Men movies, as well as the latest Wolverine movie.
24. 4thLetter! – The top 70 Deadpool moments. A countdown of the greatest comic book moments fom Deadpool, one of the antagonists from the X-Men Origins: Wolverine movie.
25. Robot 6 – A resource devoted to some of the latest Wolverine articles and news on the internet. Also offers columns, blogs and videos.
26. io9 – Provides a tutorial on Wolverine for the uninitiated. Includes powers, origin, history and more.
27. UGO Movie Blog – A humorous article entitled Wolverine's Seven Shames, which details some of the Canadian hero's more embarrasing moments.
28. Slash Film – This blog is already looking ahead to a possible sequel for X-Men Origins: Wolverine. The next one might be set in Japan.
29. Monkey See – Blogger Linda Holmes takes a funny look at "10 Jobs Not Right for Wolverine."
30. Topless Robot – A sneak peek at the after-the-credit endings for X-Men Origins: Wolverine. Also a funny Wolverine musical spoof.
31. SpoutBlog – A film blog which features an article entitled "10 Mutants Who Need an X-Men Origins Movie."
32. HeroPress – A review of the Wolverine movie, plus loads of stuff on role-playing games and comic books.
33. More Say! – This blog takes a look at the latest Slurpee cups offered as a tie-in between 7-Eleven and X-Men Origins: Wolverine.
34. Fluit Notes – A look back at the best X-Men comic book stories of the last decade.
35. (Cool) Shite on the Tube – Another review of the Wolverine movie, this time courtesy of Q-Dog. Also features news and reviews for many other movies.


X-Men and Wolverine Cast Websites
Now that you've learned about the X-Men movies and characters, why not learn a little about the men and women who make it all possible?
36. Sir Ian McKellen Official Site – The internet home of Sir Ian McKellen, also known as Magneto in the X-Men movies. Get the latest news on Sir Ian's performances on stage, film and television. Read his thoughts, and you can even ask him questions via the e-post feature.
37. Jackman's Landing – An unofficial fan site for Hugh Jackman, also known as Wolverine in the X-Men movies. Bio, galleries, links and more.
38. Mezmerizing – A fansite devoted to Halle Berry, the Oscar-winning who played Storm. Includes downloads, updates, extras and Halle Barry pics.
39. Ryan Reynolds Fan – Actor Ryan Reynolds plays Deadpool in the upcoming X-Men Origins: Wolverine. This fan site has tons of Ryan Reynolds pictures, video and news.
40. Tyler Mane on MySpace – The personal MySpace page of Tyler Mane, best known for his portrayel of Sabretooth in the first X-Men movie. He also plays Michael Myers in the Halloween movies directed by Rob Zombie. Check out his latest thoughts and pictures.
41. Romijn Online – Features loads of Rebecca Romijn news and pictures. As you may remember, the lovely Rebecca Romijn played Mystique in the first three X-Men films.
42. Patrick Stewart Network – A series of sites which comprise the official international fan club of Patrick Stewart, aka Professore X and Captain Jean-Luc Picard.
43. The Liev Schreiber Site – Features a biography, filmography and news section about Liev Schreiber, the actor who portrays Sabretooth in X-Men Origins: Wolverine. He also posts on the forums from time to time, so you might have a chance to talk to Liev himself.
44. Will.i.am – The official website for Will.i.am, member of The Black Eyed Peas and one of the stars of X-Men Origins: Wolverine. Read his blog and check out clips of his music.
45. Lynn Collins - This talented actress plays opposite Hugh Jackman in the blockbuster film X-Men Origins: Wolverine. This unofficial site includes a photo
gallery,filmography, and the latest Lynn Collins news.
46. Unofficial Brian Cox Fansite – Brian Cox, the venerable actor who played Col. William Stryker in X2, has his own unofficial fan site. Read his bio, chat on the forum, and take a look at the awards won by this Scottish sensation.
47. Official Kelly Hu Site – Kelly Hu played Lady Deathstrike in X2, and X-Men fans have been in love with her ever since. At her official site, you can check out her biography, see her latest projects, chat with other Kelly Hu fans on the forum, and even get the latest Kelly Hu news.
48. The Dominic Monaghan Resource – A vast collection of interviews and articles about Dominic Monaghan, star of X-Men Origins: Wolverine, Lost, and The Lord of the Rings.
49. Famke Janssen Online – A fansite devoted to Famke Janssen, the beautiful actress and model who portrayed Jean Grey in the X-Men movies. Read about her career and take a look at the excellent Famke Janssen gallery.
50. Taylor Kitsch – The first fansite devoted to Taylor Kitsch, star of TV's Friday Night Lights and also X-Men Origins: Wolverine (where he plays Gambit). News, galleries, and a filmography are included, as well as a link to the Official Taylor Kitsch website.
One Response to "X-Men Origins: Wolverine – 50 Sites about X-Men and Wolverine"