A. Jaye – Movie Critic Interviews
Sunday, July 26, 2009 at 9:58 am
This week's subject on Critical Juncture is A. Jaye, an aspiring novelist from across the pond in Manchester, UK. His blog is titled Thrill Fiction, and it's a potent mixture of television reviews, movie critiques, and general musings on the state of pop culture. Be sure and check it out when you get a chance. In the meantime, enjoy A. Jaye's answers to our humble questionnaire (he even manages to get in a reference to Nuremberg).
Only Good Movies: What's the first movie that you remember seeing?
A. Jaye: The flea pit in Withington was only a bus ride away, and that's my first memory of a darkened auditorium. My brothers and I spent many a Saturday matinee there. Which movies did I see? I couldn't tell you a one let alone the first. It was the 70s, and they were all chop socky. Everybody was kung fu fighting.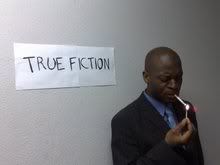 OGM: What's the most recent movie you've seen?
AJ: Frozen River was released here (United Kingdom) last Friday (24/07). Newsnight gave it a glowing review, but they missed the point. These London based liberals have no idea of what poverty desperation is and what it can induce.
There is ugliness in art.
It is still ugly.
Frozen River is one of the best films of this year so far.
OGM: Is there a particular film which you feel is criminally underrated?
AJ: My favourite film of all time is Exorcist 3. Whereas it is generally favoured by critics, it is not in the public interested domain like other sequels such as Godfather 2, Aliens, The Empire Strikes Back. The reason for this is in the name. The Exorcist is such a cultural exclamation point that anything else bearing that name is viewed with suspicion. With just cause: Exorcist 2 was exploitation at its most crass. Placed side by side, if The Exorcist is a work of inspiration, Exorcist 3 is a work of genius. With next year being the 20th anniversary, Fox should market it with the source novel's title:
Legion.
Jesus then asked him, "What is your name?" And he said, "Legion"; for many demons had entered him.
OGM: Which director do you feel has turned out the best overall body of work?
AJ: I'm going to ignore the obvious and choose a work in progress.
Brit Christopher Nolan has the gift of cinematic fluency. He's able to tell story with pictures and words using small budget and large. His filmography speaks for itself and for his future.
OGM: From an artistic standpoint, which film do you think is most important?
AJ: There is an argument that talkies killed the movies. With the advent of sound, cinema became akin to filmed stage plays. As an art form, technology denied it time to develop its own language style and grammar.
Since then, various directors have shot to redress the imbalance. They've attempted to utilise and exploit the full potential of the science. Welles, Ford, Kubrick, Scorcese, Nolan et cetera. The recent Watchmen is a fine example. The Battleship Potemkin is pure cinema and enduringly influential.
OGM: All artsy considerations aside, which movie is your personal favorite?
AJ: Exorcist 3.
OGM: In your opinion, which film is entirely overrated?
AJ: The Star Wars trilogy was infantile at best. The second trilogy showed it for the vacuousness it is. Note – just because the masses bought into it doesn't mean its Nuremberg.
OGM: Have you ever walked out of the theatre during a film? If so, what movie was playing?
AJ: I've never walked out of a movie due to bad quality. There was always another reason. However, I won't sit and watch racist hankering eg Pulp Fiction, True Romance. I'll ask for my money back.
OGM: In your mind, what's the ultimate goal of a movie critic?
AJ: My goal is to share insight, opinion and knowledge. If I trust someone's opinion then it has a huge influence on my decision making to pay to see a movie – or at the very least to spend my time. A critic's goal is to add to the conversation of the celebration of cinema.
OGM: Time to look into the future. Do you predict any major changes for the movie industry over the next 25 years?
AJ: 25 years ago was 1984 AD. Not much has changed. Home viewing differs in variables but first run box office remains the same. Over the next 25 years, science and technology will continue to expand but delivery won't. Cinema is fundamentally story telling round a camp fire. The theatres will remain so.
A footnote is independent distribution. Tyler Perry has shown that the studios will be challenged the same way small presses are challenging the (same conglomerates) majors in the publishing industry.
OGM: Here's another chance to predict the future. Name a relatively unknown actor or actress who'll be a huge star within five years.
AJ: Matthew McConaughey.
OGM: Besides yourself, who's your favorite movie critic to read?
AJ: James Beradinelli. We appear to share the same tastes. Unlike some print critics, he doesn't have an agenda, and he's enjoyable to read.
3 Responses to "A. Jaye – Movie Critic Interviews"
Trackbacks/Pingbacks