Nick Frame – Movie Critic Interviews
Thursday, October 8, 2009 at 12:35 am
Our guest this week on Critical Juncture is Nick Frame, the creative mind behind DVD Trash. Devoted to all things DVD, the site offers frequent reviews of everything from Hustle & Flow to The New York Ripper. If you're a fan of the foreign and the obscure, DVD Trash is the place to start. So let's take a look and see what 'ol Nick has to say for himself.
Only Good Movies: What's the first movie that you remember seeing?
Nick Frame: On TV, definitely Star Wars. I remember it very clearly and loving it. At the cinema, it was definitely ET, and I was petrified if I remember rightly. Also remember seeing Superman II and hiding under the seats when Superman was being beaten up!
OGM: What's the most recent movie you've seen?
NF: I've seen two in two days recently, the first being Inglorious Basterds. I thought it was excellent, and never has dialogue been so riveting. When Tarantino gets dialogue bang-on, he is a genius. The second was The September Issue about Anna Wintour, the editor of American Vogue, which I also thought was an extremely well-made documentary . What made it interesting was that the real hero was Grace Coddington, the former model who despite disagreements with Anna actually garnered a huge amount of respect from her and ultimately many of her fashion shoots and ideas actually made the September Issue.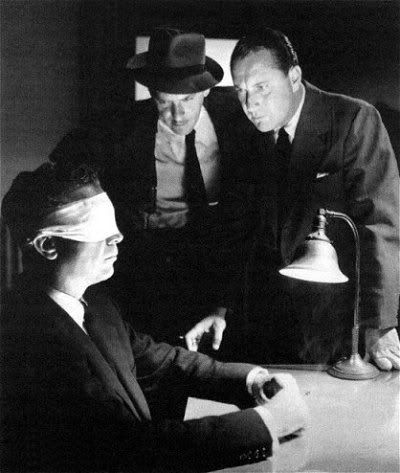 OGM: Is there a particular film which you feel is criminally underrated?
NF: Yeah, Mario Bava's Four Times That Night is a fantastic little sexy comedy thriller that really struck me the first time I saw it. For all his other great movies, I feel this one is given very little credit. I also love The Fifth Element, and I don't really understand the critical mauling it got when it came out.
OGM: Which director do you feel has turned out the best overall body of work?
NF: That's a difficult question, as every director has their ups and downs. But I'd say Spielberg, even although I don't love everything he does. He's made a very wide and interesting body of work.
OGM: From an artistic standpoint, which film do you think is most important?
NF: For me, it has to be The Godfather by Coppola. It's simply a majestic film, and for me it works every time I sit down and watch it. He lobbied so hard to get it made his way with his choice of actors, and he was vindicated big time! In my opinion, it is The American Dream of movies.
OGM: All artsy considerations aside, which movie is your personal favorite?
NF: There are so many, but one director keeps coming up: John Carpenter. I could rewatch Halloween, The Thing or Big Trouble in Little China anytime, anyplace.
OGM: In your opinion, which film is entirely overrated?
NF: The Lord of the Rings Trilogy. Technically well-made,sure, but a set of films I have no desire to ever see again. To be fair, I was born and fell in love with the Star Wars trilogy. Maybe if I been a 90's child the Rings trilogy would have been my Star Wars!
OGM: Have you ever walked out of the theatre during a film? If so, what movie was playing?
NF: No,never, but I nearly did during Vanilla Sky. The original Spanish version was already good, so why did Tom Cruise feel he needed to remake it? Can no one be bothered to read subtitles?
OGM: In your mind, what's the ultimate goal of a movie critic?
NF: To add his thoughts and opinions, but ultimately to rejoice in the greatness that is cinema. I always hope that in anything I've written I've at least made someone think just a little more about a film and,as a result, they've gone to see it or at least watched it again.
OGM: Time to look into the future. Do you predict any major changes for the movie industry over the next 25 years?
NF: I actually don't think too much will change. How we receive and watch films at home might, but the art of cinema will remain largely untouched.
OGM: Here's another chance to predict the future. Name a relatively unknown actor or actress who'll be a huge star within five years.
NF: The Italian actor Toni Servillo.
OGM: Besides yourself, who's your favorite movie critic to read?
NF: Michael McKenzie of DVD Times and Ian Jane of DVD Talk & AV Maniacs!
Thanks again to Nick Frame of DVD Trash for taking part in this week's installment of Critical Juncture. Join us again next week for another exciting chapter in our continuing tale of murder and intrigue. Okay, I just totally made that last part up.
Trackbacks/Pingbacks