Action Movies List
Thursday, September 10, 2009 at 4:10 pm
My action movies list could stretch into the hundreds, but I've tried to keep things simple and offer up 10 suggestions for your viewing pleasure. From action thrillers to martial arts movies, these selections should give you hours of kick-ass enjoyment. They can all be found on Netflix, and you're encouraged to chime in with your opinions in the comments section (especially if you feel your favorite was omitted).
1. Crank (2006) – Jason Statham stars as Chev Chelios, a hitman who's been injected with a lethal dose of poison. The only way to counter the effects are to keep his adrenaline pumping, and he does so by increasingly over-the-top methods (including public sex with his girlfriend). Plays out very much like a video game, and those interested in good action movies will also want to see Crank 2: High Voltage.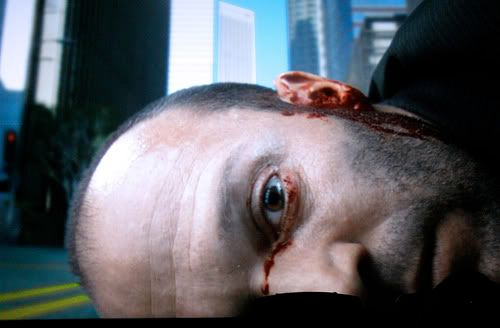 2. Hard Target (1993) – The American directorial debut of Hong Kong film legend John Woo finds Jean-Claude Van Damme playing a homeless Cajun man in New Orleans. Before you can say "gumbo," he's teamed up with a desperate woman (Yancy Butler) to track down a group of killers (led by Lance Henriksen and Arnold Vosloo) who specialize in hunting men for sport. Wilford Brimley plays Uncle Douvee, a Cajun moonshiner who's pretty handy with a bow and arrow. Great action scenes in the John Woo tradition (translation: lots of slo-mo shootouts).
3. Desperado (1995) – Antonio Banderas plays the lead in this sequel to El Mariachi. As he wanders Mexico gunning down drug dealers, he soon crosses paths with the sultry Salma Hayek. This was the first time American audiences had been exposed to Hayek, and she's been popular ever since. Great action sequences courtesy of director Robert Rodriguez, and this remains one of the better action movies of the 90s. Look for cameos by Cheech Marin and Quentin Tarantino.
4. Assault on Precinct 13 (1976) – One of the highly influential action movies of the 70s, Assault on Precinct 13 has been emulated by a number of modern directors. It tells the story of a police precinct on the verge of closing down. On its last night of operation, it's attacked by a vicious street gang looking to get payback for the death of one of their own. You'll love the character of Napoleon Wilson, a mysterious prisoner stuck in the precinct while being transferred to Death Row.
5. The Transporter (2002) – Jason Statham plays Frank Martin, a professional driver who transports people or packages for a price. Living by a specific professional code, things start to get hairy when Frank breaks his own rules and looks inside a package that appears to be moving. From there, Frank has to use all his street smarts and military training to survive against a group of international smugglers.
6. Violent Cop (1989) – I just had to include this little gem on my action movies list. Beat Takeshi stars and directs this film which was originally intended as a comedy. Well, it's a comedy no more, unless you consider police corruption and brutality to be hilarious. After his cop buddy commits suicide and the yakuza kidnap his sister, a police detective flips out and begins dispensing his own brand of violent Japanese justice. Think Dirty Harry but with a lot more sushi.
7. Above the Law (1988) – Steven Seagal made his movie debut in this film about a Chicago cop on the trail of a drug ring connected to the CIA. One of the biggest surprise action movies of the 80s, this film made Seagal a star and launched his lengthy on-screen career. Pam Grier stars as his partner, and a then-unknown Sharon Stone plays his wife. Even Roger Ebert gave this one a positive review.
8. Commando (1985) – While it's not the best example of action movies of the 80s, Commando is worth a look just to see Schwarzenegger in full-on unstoppable mode. In a later scene, he seemingly kill hundreds of soldiers without batting an eye. He even takes refuge in a tool shed and comes out killing with axes, saw blades and all sorts of other goodies. There seem to be more corny one-liners than usual out of Arnie, and his female sidekick is played by the daughter of Tommy Chong.
9. Leon: The Professional (1994) – Leon (Jean Reno) is a hitman for the Italian mob, and he spends most of his time watering his plant and watching Gene Kelly musicals. When he befriends a girl down the hall (Natalie Portman), he gets sucked into a violent showdown with corrupt DEA agents led by Norman Stansfield (Gary Oldman). Written and directed by Luc Besson.
10. Hero (2002) – Jet Li is all kinds of awesome in this Chinese action film. Beautifully directed by Zhang Yimou, every scene is filled with eye-popping colors and action. There are plenty of memorable fights to be had, and the supporting cast includes Maggie Cheung, Zhang Ziyi and Donnie Yen. A definite must for any action movies list.
Since you've already waded through my action movies list, why stop now? Here are a few more articles you might get a kick out of:
4 Responses to "Action Movies List"
Trackbacks/Pingbacks