Scary Movies List
Wednesday, September 9, 2009 at 4:23 pm
My scary movies list contains some personal favorites and even one that I didn't care for at all. My goal is to expose you to a number of scary movies you might not have seen, so you can judge them for yourself.
1. The Red Shoes (2005) – This Korean horror film revolves around a cursed pair of pink dancing shoes. Anyone who sees them becomes cursed and meets a grisly fate. This film offers amputated feet, hunchbacks, and all manner of other Asian horror goodness.
2. Rosemary's Baby (1968) – After she and her husband move into a new apartment building, things start to get weird for Rosemary Woodhouse. Before long, she dreams of being raped by a demon, and she can't resist a craving for raw meat and chicken liver. Could it beeee…Satan? Atmospheric horror film from Roman Polanski, with Ruth Gordon getting an Oscar win for her role as the all-too-helpful neighbor.
3. The Signal (2008) – If you're looking for new scary movies, you should definitely check out The Signal, an independent film divided into three parts (each with a different director). When every telecommunication device starts broadcasting the same mysterious signal, people quickly lose their minds and start killing one another. In the middle of the chaos, a husband, wife, and her lover all search for one another.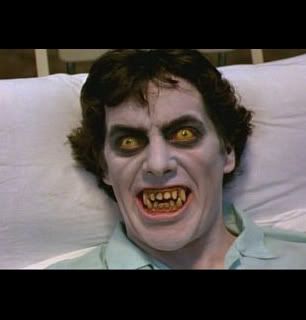 4. The Prophecy (1995) – This scary movie of the 90s features Christopher Walken as the Archangel Gabriel. Believe me, you haven't lived until you've Walken in this role. He's come to Earth to retrieve a specific evil soul, but he ends up being opposed by a cop (Elias Koteas) and a schoolteacher (Virginia Madsen). Even Lucifer puts in an appearance, and he's memorably played by a then-unknown Viggo Mortensen. Add this one to your "must see" scary movies list.
5. Carrie (1976) – When it comes to scary movies of the 70s, nothing can surpass the sheer terror of Carrie. I saw this one as a kid, and it scared the absolute hell out of me. A few years later, I remember refusing to see A Coal Miner's Daughter, because the sight of Sissy Spacek still freaked me out. In case you don't know, the movie is based on a novel by Stephen King about a tormented high school girl who gains revenge by using her newfound powers of telekinesis.
6. Angel Heart (1987) – Before he went a little nuts, Mickey Rourke starred in this chilling film about black magic. He plays Harry Angel, a post-WWII private eye hired to track down a missing crooner known as Johnny Favorite. But there's much more to the case than meets the eye, although one look at his employer (Robert De Niro with long hair and fingernails) should've told him that. Anytime I make a scary movies list, you can bet this one will show up, as it's one of my personal favorites.
7. Audition (1999) – In this Japanese film, a lonely man looking for love crosses paths with the soft-spoken Asami. She's completely insane, of course, but we don't realize the extent of her madness until the film's harrowing final scenes.
8. The Fog (1980) – John Carpenter directs this supernatural revenge film about a mysterious fog rolling into a seaside town. The shapes of people can be seen moving in the fog, and anyone caught in it has a nasty tendency to wind up dead. One of Carpenter's many scary movies of the 80s.
9. Halloween II (2009) – One of the new scary movies currently in theaters, Halloween II was directed by Rob Zombie and continues the story of Michael Myers trying to kill his sister, Laurie Strode. I didn't care for this one myself, but fans of contemporary horror should probably consider at least giving it a look.
10. An American Werewolf in London (1981) – Any talk of scary movies of the 80s should include this film, a prime example of how to navigate between horror and black comedy. When two American college students are attacked while backpacking across Europe, one is killed outright and the other (played by David Naughton) becomes a bloodthirsty werewolf. Great soundtrack and groundbreaking work with prosthetics.
And while we're on the subject of scary movies, take a look at these articles:
6 Responses to "Scary Movies List"
Trackbacks/Pingbacks