10 Best Movie Performances by Rock Stars
Friday, September 11, 2009 at 8:40 am
We've got a special treat this week at OnlyGoodMovies. Mark Blankenship of The Critical Condition has been kind enough to grace us with a special guest column. In case you're unaware, The Critical Condition provides stellar reviews of movies, music and TV, so be sure and check them out when you've got a minute.
And don't worry, Mick Jagger from Freejack appears nowhere on his list of the 10 Best Movie Performances by Rock Stars. I just couldn't resist using that goofy-looking pic.
Take it away, Mark….
With the September 11 opening of Tyler Perry's I Can Do Bad All By Myself, Mary J. Blige and Gladys Knight join the huge club of famous musicians who have wandered to the big screen. And while it seems unlikely that either R&B diva will set the acting world on fire, you never know. Back in the 80s, no one expected the Fresh Prince to become a movie star, either. To welcome Knight and Blige to their new profession, here's a look at the ten best movie performances by rock stars.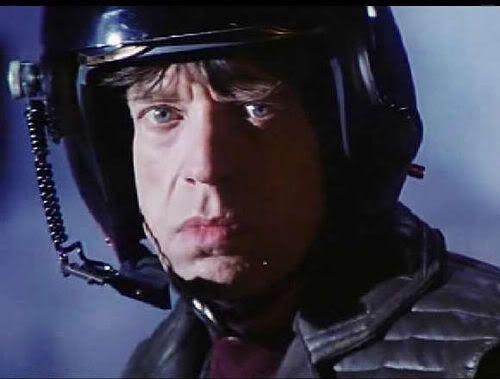 (Note: I'm calling everyone on this list a "rock star," no matter what kind of music they make.)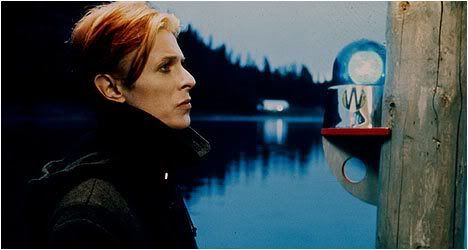 10. David Bowie in The Man Who Fell to Earth
David Bowie's turn as a humanoid alien wandering the earth isn't brilliant, exactly, but it's just what this blissed-out bong hit of a movie needs. Placid and androgynous, the singer enhances the mood of director Nicolas Roeg's meditation on society and technology.
9. Dwight Yoakam in Sling Blade
He might be cool and sexy on his alt-country records, but in Sling Blade, Dwight Yoakam is one scary son of a gun. As the abusive alcoholic Doyle Hargraves, he's an unpredictable threat, grinning sweetly just two seconds before he wails on his prospective wife and stepson. Yet Yoakam also finds something human in the character, so that when he gets his comeuppance from Karl (Billy Bob Thornton), you feel the tiniest bit of sympathy. But just a tiny bit.
8. Madonna in A League of Their Own
Yes, yes… Madonna has given many terrible performances in many terrible movies, but in this flick about the short-lived professional women's baseball league, she makes "All the Way Mae" more than just a trash-talking floozy in centerfield: She shows us the insecurity and sweetness beneath the Brooklyn swagger.
7. Mark Wahlberg in The Departed
You kids might not remember, but before he was an Oscar-nominated actor, Mark Wahlberg was Marky Mark, the white rapper from the early nineties who was slightly less embarrassing than Vanilla Ice and slightly less interesting than Snow. He shed the Funky Bunch with his performance as a porn star in Boogie Nights, but for me, his greatest achievement is his foul-mouthed, aggressive cop in Scorcese's The Departed. His character is so offensive that he's funny, but Wahlberg never acts like he's in on the joke.
6. Queen Latifah in Bringing Down the House
Latifah's great in Chicago, but what she does here is even more difficult. As an escaped convict who upends Steve Martin's middle class life, the Queen displays both excellent comedic timing and a winning personality that avoids stereotypical sass. That plus a chorus of "U.N.I.T.Y." will give you a great Friday night.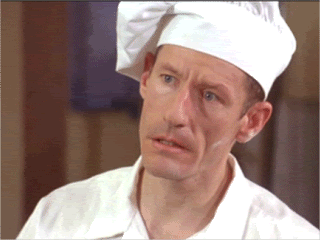 5. Lyle Lovett in Short Cuts
Tom Waits and Huey Lewis do nice work in Robert Altman's 1993 masterpiece about overlapping Los Angeles lives, but Lyle Lovett, in a small role as a disgruntled baker, is the rocker who makes the strongest impression. There's something about the stillness in his face that suggests he's got mountains of secrets.
4. Cher in Moonstruck
It's hard to imagine now, since she's been peddling that "ultra diva" shtick for the last ten years, but in 1987's Moonstruck, Cher traded spangly glamor for endearing goofiness. Playing fortysomething Brooklyn native Loretta Castorini, who has the bad luck to fall for her fiance's brother, she's insecure and funny and relatable. She absolutely deserved her Oscar.
3. Better Midler in The Rose
From bathhouse singer to Broadway performer to chart-topping diva, Better Midler has had about six thousand careers. She added serious actress to the list with her furious, flawless turn as Mary Rose Foster, a Janis Joplin-esque rocker who falls as fast as she rises.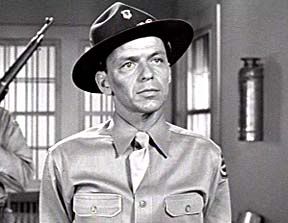 2. Frank Sinatra in From Here to Eternity
Everyone knows the scene in this movie where Burt Lancaster and Deborah Kerr make out on the beach, but Frank Sinatra's Oscar-winning work as a violent, empathetic G.I. is equally memorable. And it's not only his rage as Pvt. Angelo Maggio that makes him so striking—it's also his undeniable charm. A doomed man who keeps his lust for life is both tragic and inspiring at the same time.
1. Will Smith in The Pursuit of Happyness
Like Mark Wahlberg, Will Smith has been so successful as an actor that his rap career seems inconceivable now, and his reputation has been made with glorious performances like this one. Fully inhabiting a single father's struggle to raise his son, land a competitive job, and, oh yeah, stop being homeless, Smith does every musician-turned-actor proud.
Also recommended:
5 Responses to "10 Best Movie Performances by Rock Stars"
Trackbacks/Pingbacks