Best Movie Cameos
Wednesday, September 2, 2009 at 6:39 pm
The best movie cameos can provide an unexpected thrill for audiences, as they're suddenly confronted by the on-screen image of a popular actor, athlete, or personality. While these movie cameos often occur in comedies, literally any genre of film is ripe for a brief and unexpected celebrity appearance. The following list contains my picks for the best movie cameos. If you have a different opinion, or think of one that I left out, be sure to let me know in the comments section. We always love to hear from out readers here at OnlyGoodMovies.
And just in case you're wondering, Wikipedia defines a cameo as "brief appearance of a known person in a work of the performing arts. Such a role needs not be filled by an actor: short appearances by film directors, politicians, athletes, and other celebrities are common." Now here's the list, presented in no particular order (although I did divide them up into a few categories for your convenience):
Best Actor Movie Cameos
If the cameo is performed by someone primarily known for their skills as a thespian, then look for them on this list of the best actor movie cameos.
Samuel L. Jackson from Kill Bill Volume 2 – Before the Bride (Uma Thurman) can get married, she and her fiancée need to make sure the wedding music is taken care of. Enter Rufus, an ultra-cool veteran musician played by Jackson. According to Rufus, "If they come through Texas, I done played with them."
Martin Sheen from Hot Shots! Part Deux – As Charlie Sheen's character heads up-river in a boat, he writes in his journal complete with voice-over. A competing voice-over soon interrupts, and we see that it's Martin Sheen, parodying his role in Apocalypse Now. As the father-son duo pass one another, they each shout, "I loved you in Wall Street."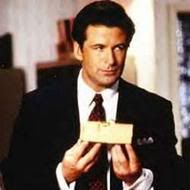 Alec Baldwin in Glengarry Glen Ross – Baldwin steals the show from actors such as Al Pacino, Ed Harris and Jack Lemmon by playing a heartless salesman on a "mission of mercy" in this film based on a David Mamet play. Between bragging about the price of his car, talking about coffee being for closers, or displaying an actual set of brass balls, Baldwin's character is the walking, talking embodiment of capitalism run wild.
Pamela Anderson in Borat – The object of affection for Sasha Baron Cohen's backwards Kazakh journalist, Anderson gets partially shoved into a "traditional marriage sack" before hysterically running away. I can't believe the idea of "sexy time" didn't appeal to her, especially given her famed performance with Tommy Lee.
Dean Stockwell in Blue Velvet – Most people remember Dean Stockwell from his role on Quantum Leap, but in this David Lynch film he plays a pimp who enjoys lip-synching to Roy Orbison tunes. Even Dennis Hopper's memorable character, the nitrous sniffing Frank Booth, refers to him as "one suave fucker."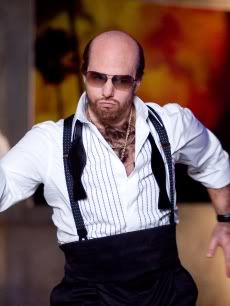 Tom Cruise in Tropic Thunder – Eager to shed his image as an unlikable nutjob, Cruise took on this cameo as foul-mouthed studio boss Les Grossmen. Buried beneath a fat suit and various other latex appliances, Cruise curses, dances, and nearly upstages everyone in the process. Bizarre but also perversely entertaining.
Orson Welles in The Muppet Movie – Another famous actor playing a studio head, the imposing Wells appears as Lew Lord, a character based on real life movie boss Lew Grade. While his career was suffering by that point, Welles still managed to give a memorable performance while calling for a "standard 'Rich and Famous' contract" to be prepared for Kermit the Frog and his pals. Citizen Kane it ain't, but it's still memorable in a positive way.
Gene Hackman in Young Frankenstein – Frankenstein's Monster (Peter Boyle) pays a visit to a bearded blind man named Harold, and he treats the pitiful creature to cigars, wine and soup. The creature is scared away by fire, but Harold memorably calls out, "Where are you going…I was gonna make espresso!" A funny cameo from an actor whose comedic acting skills were vastly underrated.
Justin Long in Zack and Miri Make a Porno – Lowering his voice an octave or two, Justin Long gives a memorable cameo as a gay porn star named Brandon St. Randy. In between sips of his martini, he tells Zack (Seth Rogen) about some of his films, including "Glen and Gary Suck Ross's Meaty Cock and Drop Their Hairy Nuts in His Eager Mouth" and "You Better Shut Your Mouth or I'm Gonna Fuck It."
Shirley MacLaine in Defending Your Life – As the tour of the Afterlife Pavilion in this Albert Brooks film, Warren Beatty's sister does a nice job of skewering her publicly-held beliefs about reincarnation.
Billy Zane in Zoolander – When Derrick Zoolander challenges rival Hansel to a fashion "walk-off," Billy Zane immediately begs his friend to reconsider. But Derrick doesn't wanna hear any of Mr. Zane's mess, and the bald star can only sit back and watch as the show begins. An honorable mention goes to Gary Shandling playing himself later in the film (as totally obsessed with the handsome Zoolander).
William Hurt in A History of Violence – This brief role snagged Hurt an Oscar nomination, and he certainly hits one out of the park as the older mob boss brother of Viggo Mortensen. If you missed it, rent this David Cronenberg film and enjoy Hurt's portrayal of a hopelessly evil character (who admits to trying to strangle his baby brother in his crib).
Arnold Schwarzenegger in The Rundown – As retrieval specialist Beck (Dwayne Johnson) is on his way to mix it up with several professional football players, he's passed by a leather-clad Arnie. With his only lines being "Have fun," Schwarzenegger essentially passes the action movie torch to the former pro wrestler.
Danny Glover in Maverick – Glover plays a masked bank robber who runs into Mel Gibson's Brett Maverick during a holdup. The two stare at one another for a moment, almost as if they recognize one another, and then Glover flees the bank while mumbling "I'm getting too old for this shit." A great little moment for Lethal Weapon fans.
Christopher Walken in Pulp Fiction – Walken plays Captain Koons, a former P.O.W. who visits the family of a fellow prisoner in order to deliver the man's gold watch. In the hands of Walken, a normally sentimental scene becomes one of awesome hilarity.
Tim Robbins in Anchorman: The Legend of Ron Bergundy – Playing a Public TV new anchor, Robbins leads his colleagues into a deadly brawl with various other newscasters. A violent and surreal scene which remains one of the film's most memorable moments.
Ned Beatty in Network – He's only on-screen for five minutes, but Beatty picked up an Oscar nomination as the greedy and charismatic network head who convinces ranting anchorman Howard Beal to adopt a new philosophy dedicated to "all necessities provided, all anxieties tranquilized, all boredom amused" by the corporate landscape.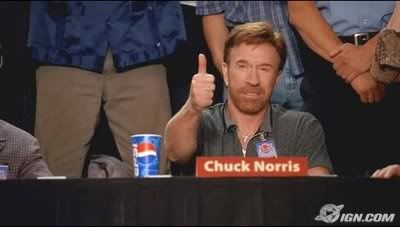 Chuck Norris from Dodgeball: A True Underdog Story – When Average Joe's Gym is in danger of being forced to forfeit the prestigious Las Vegas dodgeball tournament, help comes in the bearded, manly form of judge Chuck Norris. The full-time badass allows the team of underdogs to stay in the tourney, and he gives team captain Vince Vaughn an inspirational thumbs-up. After that, the outcome of the event is inevitable, as you don't get the "Chuck Norris Thumbs-Up" and then lose.
Neil Patrick Harris from Harold & Kumar Go to White Castle – Harold and Kumar pick up the former Doogie Howser star, only to find that he's strung-out on ecstasy. Between his hilarious incoherent rants, Harris manages to steal the duo's car and take off into the night. An unexpected, yet utterly hilarious, cameo.
Best Comic Movie Cameos
If they've ever spent time as a stand-up comic, then they'll wind up on this section of the best comic movie cameos.
Billy Crystal from This Is Spinal Tap – Crystal plays Morty the Mime, a bizarre combination mime/head waiter at Spinal Tap's most recent launch party. Very brief, but very freakin' hilarious.

Sam Kinison from Back to School – Acting opposite of Rodney Dangerfield, the late Kinison plays a volatile college history teacher (contemporary American history, actually) who seems a little too preoccupied with the Vietnam War. As Dangerfield's character says, "Good teacher. He really seems to care. About what I have no idea."
Janeane Garofalo in The Cable Guy – When Matthew Broderick and Jim Carrey head to Medieval Times, they encounter Garofalo as their "serving wench, Melinda." Filled with a bad attitude and little patience, Melinda explains that there are no utensils at Medieval Times because there were no utensils in Medieval Times. When Broderick questions her about why they serve Pepsi, she exhales in disgust and exclaims "Dude!" before stalking off.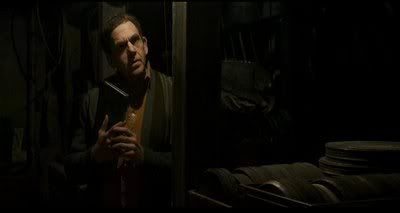 Charles Fleischer in Zodiac – Best known as the voice of Roger Rabbit, Fleischer turns in a creepy cameo as a man suspected of being the Zodiac Killer. When he leads Jake Gyllenhaal into a creepy old house and goes down to the basement, you just know he's about to return and carve up our hero.
Chris Rock in I'm Gonne Git You Sucka – Playing the role of "Rib Joint Customer," Rock drives restaurant owners Jim Brown and Isaac Hayes nuts with his questions about how much one rib would cost, or how much soda he could get for 15 cents. After asking if he could get soda poured into his cupped hands, the zany customer then asks the harried owners if they can break a $100 bill.
David Letterman in Cabin Boy – Early in the film, Chris Elliott's pampered "Fancy Lad" encounters a character simply known as "Old Salt" (his former boss, Letterman). With such bizarre lines as "Would you like to buy a monkey?" and "Don't let them give you any of that flank-steak bullshit," Letterman's rare movie appearance remains one of the best movie cameos in recent memory.
Bob Saget in Half-Baked – Saget, best known as the kindly dad from Full House, shocked viewers into laughter with his role as a recovering drug addict. When he starts talking about sucking c**k, that's when things really take a turn for the bizarre. Uncle Jesse would never talk like that.
Best Musician Movie Cameos
A lot of singers and other musicians have made cameos over the years. Here are some of the best musician movie cameos for you to enjoy.
Twisted Sister in Pee Wee's Big Adventure – As Pee Wee rides through a Hollywood backlot on his prized bicycle, he passes the band in the middle of a video shoot. Dee Snider just looks so awesome as he lip syncs "Burn in Hell."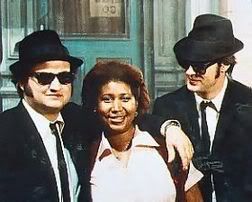 Aretha Franklin in The Blues Brothers – When she's not reigning as "The Queen of Soul," Aretha Franklin apparently likes to dress up as a waitress, hang out in greasy spoon cafes, and lead the customers in a rousing version of "Think." Who knew?
Huey Lewis in Back to the Future – Lewis's hit "Back in Time" helped make the movie a hit, but in the film he plays a teacher who's not exactly into rock and roll. In fact, he refuses to let Marty McFly (Michael J. Fox) and his band perform, telling them that they're simply too loud.
Keith Richards from Pirates of the Caribbean: At the World's End – The mumbling one makes an appearance as Jack Sparrow's (Johnny Depp) father. This cameo is largely due to the fact that Depp supposedly patterned his eccentric pirate's mannerisms on the guitarist for the Rolling Stones. Well, it's still better than Mick Jagger in Freejack.
Elvis Costello in Spiceworld – Costello has made numerous film and television cameos (16 as himself), but I especially liked this instance where he played himself working as a bartender. As the Spice Girls worry about the pitfalls of being popular one day and unknown the next, Costello looks on with comical sympathy.
Ray Charles in The Blues Brothers – Charles plays the owner of Ray's Music Exchange, and he belts out a classic version of "Shake a Tail Feather." He's pretty funny, too, playing the blind owner who somehow knows everything that's going on in his store. Top that, Ronnie Milsap!
Guns 'N Roses in The Dead Pool – Slash gets to fire a harpoon gun in the final entry of the Dirty Harry series, thus providing some foreshadowing for later in the film. And the whole band shows up for the funeral of rocker Johnny Squares (Jim Carrey in an early role), who actually lip syncs the popular "Welcome to the Jungle" prior to his death.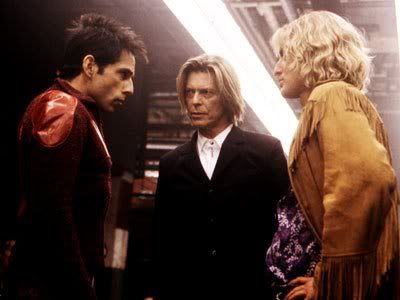 David Bowie in Zoolander – When Derek Zoolander (Ben Stiller) and up-and-coming model Hansel (Owen Wilson) decide to have a "walk-off" to determine the top fashion model, Bowie shows up and offers his services as a judge. "The Thin White Duke" looks absolutely fabulous, even in this tiny role.
Flea/Anthony Kiedis/Henry Rollins in The Chase – Rollins plays a pumped-up cop on a reality show, while Flea and Kiedis portray a pair of dimwitted citizens who try to capture a fleeing Charlie Sheen (and get themselves on TV). The plan backfires, of course, and the pair from The Red Hot Chili Peppers barely escape their soon-to-be-exploding vehicle.
Rob Halford in Spun – The former lead singer for Judas Priest plays a porn shop employee who takes a liking to Mickey Rourke's meth cook. This doesn't sit well with "The Cook." interrupting his discourse on the importance of pornography.
Bruce Springsteen in High Fidelity – As Rob Gordon (John Cusack) daydreams about his woman problems, he's visited by "The Boss." Springsteen is more than happy to help, offering relationship advice and even throwing in a little music for good measure.
Alice Cooper in Wayne's World – When Wayne and Garth head to an Alice Cooper concert, they're surprised to find the shock rock icon discussing the history of Milwaukee and Native American dialects backstage instead of raising hell. At that point, all that's left to do is drop to their knees and chant "We're not worthy."
Billy Ray Cyrus in Mulholland Dr. – With his mullet and faux-country good looks, Miley's dad plays a dreamy pool man who's sleeping with the wife of one of the main characters. Another bizarre, but brilliant, move by director David Lynch.
Best Athlete Movie Cameos
If the cameo's done by someone noted for football, basketball, baseball or another major sport, then chances are that you'll find them on this list of best athlete movie cameos.
Mike Tyson in The Hangover – Before punching out one of the lead characters, Tyson demonstrates his love for Phil Collins by playing air drums during "In the Air Tonight." Could this be the beginning of a kinder, gentler Mike Tyson?
Lance Armstrong in Dodgeball – When Vince Vaughn's character is ready to give up on his dreams of Dodgeball glory, he runs into Lance Armstrong at the airport. The Tour de France champ congratulates him, then shames him be relating his recovery from cancer. After that, the embarrassed Vaughn has no real choice but to stick with it.
Dan Marino in Little Nicky – Marino takes a break from Isotoner commercials to ask Satan (Harvey Keitel) for a Super Bowl win, pointing out that Joe Namath did the same. Satan refuses, laughs, and admits to being a Jets fan.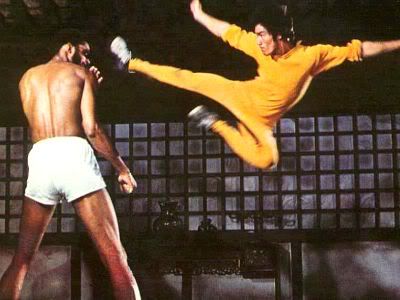 Kareem Abdul-Jabbar in Game of Death – As Bruce Lee fights his way past one martial arts master after another, his final test comes in the form of the towering Abdul-Jabbar. You've never seen kung-fu until you've seen a seven-footer perform it. You can easily guess who wins, but the former Lakers center puts up one helluva fight.
Brett Favre in There's Something About Mary – Whether he's referring to Ben Stiller as a "dumbass" or trying to romance Cameron Diaz, Favre's cameo will always be remembered. If you're really a fan of Favre's acting, be sure to also check out Reggie's Prayer which stars Favre's former Green Bay teammate, Reggie White. Favre plays a dimwitted janitor in that one.
Best Celebrity Movie Cameos
In addition to cameos by athletes, musicians and actors, many movies also feature brief appearances by people from numerous other walks of life. These may include memorable bits from authors, politicians, and one of numerous other fields. Check out these best celebrity cameos for a wide-ranging group of celeb stars.
Ben Stein in Ferris Bueller's Day Off – A former speechwriter for Presidents Ford and Nixon, Stein made his mark on cinema with his role as the most boring teacher ever. Between his droning on about tariffs and his repeated "Bueller…Bueller….Bueller," his role was enough to make us glad we're not back in high school.
Jim Garrison in JFK – In an ironic twist from Oliver Stone's JFK, New Orleans DA Jim Garrison appears in a cameo as Chief Justice Earl Warren, one of the very men Garrison believed helped to cover up the conspiracy surrounding the death of President John F. Kennedy.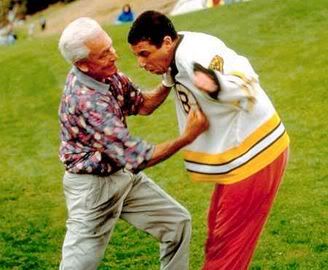 Bob Barker in Happy Gilmore – Barker won an MTV Movie Award at the age of 73 for this cameo in which he beats up Adam Sandler on the golf course. Previously known only as the venerable host of The Price Is Right, Barker gained a whole new legion of fans following the appearance.
Merv Griffin in The Man With Two Brains – A madman known as The Elevator Killer is terrorizing Vienna, and it's eventually revealed to be none other than Merv Griffin (playing himself). As he confesses to Dr. Hfuhruhurr (Steve Martin), "I always just loved to kill." Friggin' awesome.
Kurt Vonnegut in Back to School – When the wealthy Thornton Melon goes to college, he hires noted author Kurt Vonnegut to write a paper about…Kurt Vonnegut. Unfortunately, the paper gets a failing grade, and, according to the professor, "Whoever did write it doesn't know the first thing about Kurt Vonnegut." This leads to Melon giving the writer an earful over the phone and threatening to call Robert Ludlum the next time he needs a paper written.
4 Responses to "Best Movie Cameos"
Trackbacks/Pingbacks