Comedy Movies List
Saturday, September 12, 2009 at 5:54 pm
If you're looking for a comedy movies list, look no further. The following 10 comedy films will lift your spirits no matter how rotten of a day you've had. These can all be rented from either Blockbuster Online or Netflix, and they'll even deliver right to your door for a convenient monthly fee. Speaking of which…
1. The Grand (2008) – Largely done through improvisation, this comedy about a Texas Hold'em tournament features Woody Harrelson, Cheryl Hines, David Cross, Richard Kind, Chris Parnell, Ray Romano, Werner Herzog, Gabe Kaplan and Dennis Farina. A number of pros also make appearances, including Doyle Brunson, Phil Laak and Daniel Negreanu. One of my favorite new comedy movies.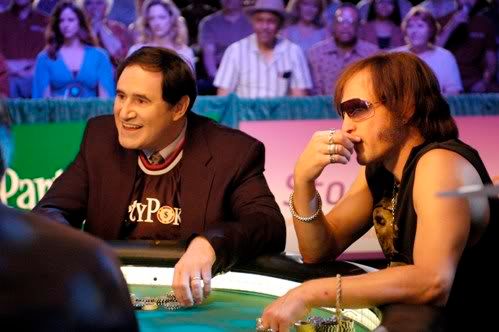 2. Galaxy Quest (1999) – The former stars of a cancelled sci-fi series are abducted by aliens who need their help. You see, these aliens saw episodes of their old show and believed them to be real. A lighthearted comedy that's better than expected. Stars Tim Allen, Sigourney Weaver, Alan Rickman, Sam Rockwell, Justin Long and many more.
3. High Anxiety (1977) – A doctor (Mel Brooks) at a clinic for the very, very nervous notices some odd goings-on and decides to investigate. This leads to a hilarious dose of murder and deception, as well as plenty of opportunities to spoof Hitchcock films. Also starring Madeline Kahn, and Harvey Korman. One of the many great comedy movies of the 70s from Mel Brooks.
4. The Apartment (1960) – An office worker (Jack Lemmon) allows his various bosses to use his apartment for extramarital affairs. Meanwhile, he tries to romance a lovely elevator operator played by Shirley MacLaine. The Apartment was nominated for 10 Oscars and won five, including the Best Picture award.
5. The Hammer (2008) – In this recent comedy movie, Adam Carolla plays a former amateur boxer who once again laces up the gloves for a shot at Olympic glory. Along the way, he makes new friends, falls in love, and learns a little something about himself. Carolla actually did some boxing when he was younger, and it's surprisingly evident in the fight and training scenes.
6. Being John Malkovich (1999) – Perhaps the most original of the comedy movies of the 90s, Being John Malkovich deals with a secret passage which actually leads into the mind of the aforementioned actor. When a struggling puppeteer (John Cusack) finds it, he starts selling people admission to take Malkovich for a spin. One of the more unique choices on any comedy movies list.
7. Land of the Lost (2009) – Many of the new comedy movies have been a little disappointing, but this Will Ferrell remake of the popular TV show still manages to generate plenty of laughs. Danny McBride is especially good in his usual redneck role, but I'm still scratching my head over the reported $100 million budget.
8. Airplane! (1980) – In this perfect example of comedy movies of the 80s, Airplane! spoofs such films as Airport and Airport 1975. When much of the plane succumbs to food poisoning, a nervous ex-pilot must help bring everyone down safely. Lloyd Bridges is especially great as the air traffic controller who picked the wrong day to stop sniffing glue.
9. Freddy Got Fingered (2001) – You won't see this one on many comedy movies list, as the general consensus agrees that Freddy Got Fingered stinks. Still, you should never accept the herd mentality, so why not give this Tom Green film a try? Rip Torn is solid as the disapproving father, and fans of Tom Green (there must be a few) will certainly find some bright spots.
10. Kind Hearts and Coronets (1949) – A black comedy starring Dennis Price as a vengeful man looking to become the head of the English noble house which ostracized his mother. But to rule the house, he'll need to get rid of the eight nobles with better claims (all hilariously played by Sir Alec Guinness). Considered a classic comedy film.
If you'd like to know more about both old and new comedy movies, try reading the following articles from OnlyGoodMovies:
12 Responses to "Comedy Movies List"
Trackbacks/Pingbacks