Kid Movies List
Friday, September 11, 2009 at 5:15 pm
Doing a kid movies list didn't exactly set my heart aflutter, but hopefully you'll get more use out of it than I would. From animated films to new kid movies, there's a little something here for children of all ages. Start up an account with Blockbuster Online or Netflix, and you can have any of these titles delivered right to your home.
1. Spy Kids (2001) – Directed by Robert Rodriguez, this movie is about a brother and sister who think their parents (played by Carla Gugino and Antonio Banderas) are dull. In reality, the parents are semi-retired spies. When they go missing, it's up to the kids to follow in the family tradition.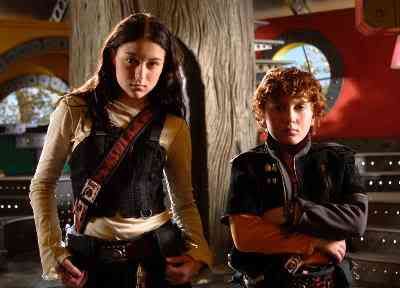 2. Charlotte's Web (1973) – One of the great kid movies of the 70s, Charlotte's Web tells the story of a little pig named Wilbur who gets saved from slaughter by a barn spider named Charlotte. This animated tale is heartwarming and heartbreaking at the same time, and it's got plenty of musical numbers to keep smaller kids interested. I still remember crying my eyes out towards the end.
3. Back to the Future (1985) – Michael J. Fox starred as Marty McFly in this 80's blockbuster about a teenager who travels through time in a modified car. He goes into the past and must help his father overcome the school bully and win the heart of the woman he loves (Marty's future mother). Christopher Lloyd is a hoot as the eccentric scientist Doc Brown. Two sequels would follow.
4. High School Musical (2006) – One of the new kid movies, High School Musical is about a boy and girl from different cliques who fall in love while participating in the school musical. Zac Efron and Vanessa Hudgens star, and the film is packed with wall-to-wall musical numbers. Just be sure to warn your kids that real-life high school doesn't feature people suddenly breaking into song.
5. The Goonies (1985) – A group of pre-teens (including Sean Astin, Josh Brolin, Corey Feldman and Jonathan Ke Quan) band together in order to find a pirate's treasure and save their homes from demolition. Of all the kid movies of the 80s, this one now has one of the largest cult followings.
6. Ratatouille (2007) – Produced by Pixar, this computer-animated film centers around a rat named Remy who dreams of becoming a chef. An example of the new kid movies available on the market, Ratatouille won the Oscar for Best Animated Feature.
7. The Lion King (1994) – A monster hit for Disney, everything about The Lion King was successful (including the soundtrack). The story of a young lion cub who must flee from his murderous uncle and one day return to claim his rightful place as King of the Jungle. Kids will love this film, and so will most adults.
8. Agent Cody Banks (2003) – Cody Banks (Frankie Muniz) is a 15-year-old junior member of the CIA who must gather information about a potential mad scientist. Of course, things get complicated when Cody falls for the daughter of the scientist (Hilary Duff) and tells her everything. A fun little film in the vein of Spy Kids.
9. Yellow Submarine (1968) – A trippy animated film based on the music of The Beatles. Includes such popular songs as "When I'm Sixty-Four" and "Lucy in the Sky with Diamonds." Kids and LSD addicts will both love this musical romp.
10. Shrek (2001) – Mike Myers lends his voice to Shrek, a peaceful-yet-misunderstood ogre. During the course of the movie, he falls in love with a princess, befriends a talking donkey, and thwarts a size-obsessed tyrant. Featuring the voice talents of Eddie Murphy, Cameron Diaz and John Lithgow.
That wasn't too painful, was it? Assuming you're still reading this, how about clicking on some more OGM goodness? Here are a few suggestions:
Trackbacks/Pingbacks