My Favorite Movie Parody Titles and Knock-Offs
Thursday, May 7, 2009 at 1:20 am
I love movie parody titles and knock-offs. Sure, it might seem a little juvenile, but there's something hilarious to me about changing just a few words of a Hollywood blockbuster to avoid getting your pants sued off. When it comes to this practice, there are two masters in my opinion: Asylum and the world of adult films.
First off, let's take a look at Asylum. They're a low-budget production company which specializes in making movies similar in theme and title to big-budget films. These imitations are usually released on DVD a week or so before the similarly titled Hollywood movie hits the theatres. You can even catch actors like Marc Singer, C. Thomas Howell, and Bruce Boxleitner in action on these flicks, always a plus for those of us longing for the Scarecrow & Mrs. King movie remake.
But before I get off on a Kate Jackson tangent, let's look at some of my favorite Asylum titles. Remember, all these movies are available for purchase on Amazon, or you can rent a few of them at your local video store. Next to each Asylum title, I've also included the title of the film being imitated.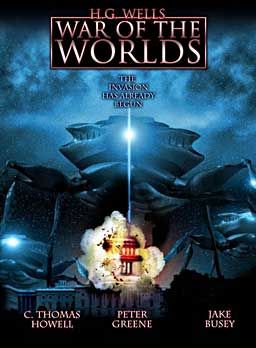 100 Million BC (10,000 BC) – It doesn't have Camilla Belle, so what's the point?
18-Year-Old Virgin (The 40-Year-Old Virgin) – Somehow, I'm guessing this version isn't as funny.
30,000 Leagues Under the Sea (20,000 Thousand Leagues Under the Sea)
666: The Child (The Omen) – It's all for you, Damien!
AVH: Alien vs. Hunter (AvP: Alien vs. Predator)
Bram Stoker's Dracula's Curse (Bram Stoker's Dracula)
Da Vinci Treasure (The Da Vinci Code) – Hope the lead actor has a better wig than Tom Hanks.
The Day the Earth Stopped (The Day the Earth Stood Still) – Will Smith's kid is nowhere to be found, so that's at least one thing in its favor.
Death Racers (Death Race) – Featuring the Insane Clown Posse!
Dragon (Eragon)
H.G. Wells' War of the Worlds (War of the Worlds) – I love how they also manage to rip off Independence Day in the movie's poster (see pic above).
Halloween Night (Halloween) – Crappy knock-off of a crappy remake. Twice the crap factor.
Hillside Cannibals (The Hills Have Eyes) – I guess The Hills Have Mouths sounded too corny.
I Am Omega (I Am Legend) – I actually saw this one, and I'll never be the same.
Transmorphers (Transformers) – Just not the same without Megan Fox.
Transmorphers 2: Fall of Man (Transformers: Revenge of the Fallen)
Universal Soldiers (Universal Soldier) – That's cutting it pretty close.
Sunday School Musical (High School Musical) – Can the music be any worse? Yes, it can.
Snakes on a Train (Snakes on a Plane) – An equally stupid premise.
Monster (Cloverfield) – I heard this one was really awful.
Pirates of Treasure Island (Pirates of the Caribbean) – Starring Lance Henriksen as a pirate!
Invasion of the Pod People (Invasion of the Body Snatchers)
Now that we've covered the fine folks at Asylum, let's take a look at the best movie parody titles generated by the porn industry. Don't read if you're easily offended.
Dude, Where's My Dildo? (Dude, Where's My Car) – Too bad Jennifer Garner wasn't in both of these.
Big Trouble in Little Vagina (Big Trouble in Little China) – I'm betting the remake also has a character named Wang.
Tea Bagger Vance (The Legend of Bagger Vance) – It has to be better than the original.
Moulin Splooge (Moulin Rouge!) – Without all the annoying singing.
Pokeahotass (Pocahontas) -Wonder if anyone ever accidentally grabbed this instead of the Disney version?
Edward Penishands (Edward Scissorhands) – Maybe Tim Burton is finally branching out.
Romancing the Bone (Romancing the Stone) – Hope Danny DeVito wasn't in this one.
On Golden Blonde (On Golden Pond) – Katharine Hepburn missed her calling.
Honey, I Blew Everybody (Honey, I Blew Up the Kids) – A personal favorite.
Snatch Adams (Patch Adams) – Laughter isn't the best medicine: sex is!
Guess Who Came At Dinner (Guess Who's Coming to Dinner) – Complete with multi-racial action!
Missionary Position: Impossible (Mission: Impossible)
Dead Men Don't Wear Rubbers (Dead Men Don't Wear Plaid) – It sells itself.
Penetrator (The Terminator) – The tagline is "I'll come again!"
Clockwork Orgy (A Clockwork Orange) – This time the droogs are hot chicks.
Lady of the Rings (Lord of the Rings) – Frodo is female, hot, and far less depressing.
Das Boob (Das Boot) – Somehow, I doubt this has anything to do with submarines.
American Booty (American Beauty)
5 Responses to "My Favorite Movie Parody Titles and Knock-Offs"
Trackbacks/Pingbacks