Rock N Roll Movies List
Tuesday, September 8, 2009 at 5:12 pm
The following rock n roll movies list offers a wide selection of choices, and there's even some sex and drugs sprinkled into some of them (such as The Wall and Sid and Nancy). If you watch any of the following, you can expect plenty of good music and loads of rock'n'roll attitude. Jump on the comments section and list your own favorites, and don't forget about Netflix; they have all the films listed below plus thousands more.
1. Sid and Nancy (1986) – Gary Oldman plays Sex Pistols' bassist Sid Vicious in this grimy look at his life and early death, as well as the death of girlfriend Nancy Spungen. Filled with outrageous punk behavior, self-mutilation and heroin addiction, Sid and Nancy is in direct contradiction to more warm-hearted rock n roll films such as La Bamba and That Thing You Do!.
2. La Bamba (1987) – Based on the life and death of rock star Ritchie Valens, the film put both Lou Diamond Phillips and Los Lobos on the map. A good-natured film that's appropriate for all ages, La Bamba makes you wonder what the 17-year-old Valens would've accomplished if he had only missed that fateful flight.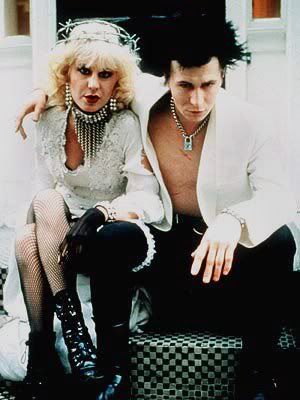 3. Hedwig and the Angry Inch (2001) – An East German cross-dresser undergoes a sex change operation in order to marry an American soldier and move back to the United States. The surgery is botched, however, leaving Hedwig with a non-operational inch of flesh between her legs. Once in America, she eventually forms a rock band comprised of Korean-born Army wives. An off-the-wall rock musical for those with an open mind. It's not one of the new rock n roll movies, but it's the most recent one on this list.
4. Elvis (1979) – Even though this was a TV movie, it still made my rock n roll movies list. John Carpenter directed, and it marked the first time he worked with Kurt Russell (who played Elvis). That's enough to qualify it as one of the best rock n roll movies of the 70s in my book.
5. Pink Floyd The Wall (1982) – Filled with the music of Pink Floyd, this symbolic masterpiece is a perfect example of what rock n roll movies of the 80s could be. As rock star Pink (Bob Geldof) slowly loses touch with reality, his life is explored in increasingly bizarre flashbacks. If you're a 420 fan, prepare to watch this film and have your mind blown.
6. Six-String Samurai (1998) – Filled with rock'n'roll and plenty of action scenes, Six-String Samurai is a unique blend of comedy and the post-apocalyptic genres. A wandering samurai who looks like Buddy Holly wanders the nuked wastelands of America in a quest to become the next "King of Rock and Roll." Besides the wandering gangs and mutants, he'll also have to contend with his greatest enemy: The Grim Reaper (who looks a lot like Slash).
7. That Thing You Do! (1996) – The meteoric rise and fall of The Wonders is told in this movie directed by Tom Hanks. With a likable cast of characters and infectious title song, That Thing You Do! is one of the best examples of rock n roll movies of the 90s.
8. Eddie and the Cruisers (1983) – When musician Eddie Wilson dies mysteriously, a newspaper reporter investigates the events surrounding his demise. The day after his death, his band's second album also disappears from the vault of his record label. The movie soundtrack sold three-million copies, and "On the Dark Side" became the number one single in America. While it makes my rock n roll movies list, Eddie and the Cruisers is a film forgotten by many.
9. Great Balls of Fire! (1989) – Dennis Quaid portrays '50s music icon Jerry Lee Lewis. This film documents his rise to fame, as well as his romance and eventual marriage to his 13-year-old cousin (Winona Ryder). Plenty of great music, and watch for Alec Baldwin as Lewis's cousin, the preacher Jimmy Swaggart.
10. The Doors (1991) – Oliver Stone directed this tale of the excessive life of Jim Morrison, lead singer for The Doors. Val Kilmer plays Morrison and does all his own singing, and it's definitely a praise-worthy performance. Stone's manic directorial style is perfect for this surreal tale of rock performances and trips to the spiritual plane. Co-stars include Meg Ryan, Kyle MacLachlan, Kevin Dillon and Frank Whaley. When compiling any rock n roll movies of the 90s list, this one's gotta make the cut.
Now that you're done reading this list, click on the following links for even more musical goodness:
6 Responses to "Rock N Roll Movies List"
Trackbacks/Pingbacks