Film Noir Movies List
Tuesday, September 8, 2009 at 3:26 pm
While a film noir movies list should include a number of works from the '40s and '50s, it's also possible to find examples of new film noir movies, as well as those made in the '70s, '80s, and '90s. French for "black film," noir movies routinely feature morally ambiguous characters committing crimes with greed or lust as a motivation. Hard-boiled private eyes and treacherous dames are also staples of the genre.
Below, I've listed a few film noir movies you might want to check out. I'm not saying they're the best examples of the genre, but they should provide you with a decent overview of how the genre has progressed over the decades. List your own favorite film noir movies in our comments section, and be sure to start a Netflix account to enjoy all these movies from the comfort of your own home.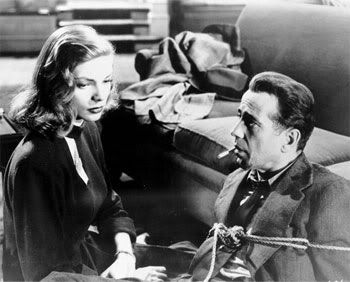 1. The Maltese Falcon (1941) – Any film noir movies list has to include The Maltese Falcon. Considered by many to be the first true film noir, The Maltese Falcon marks the directorial debut of John Huston. Humphrey Bogart stars as Sam Spade, a private investigator who gets involved in a dangerous web of murder and deceit surrounding a golden, jewel-encrusted statue of a falcon.
2. The Long Goodbye (1973) – Robert Altman directed this contemporary film noir starring Elliott Gould as Philip Marlowe. As the movie begins, his best friend is accused of murder and later believed to commit suicide. Then Marlowe is hired to find a missing alcoholic author suffering from writer's block. How do the two events tie together? You'll just have to watch this superior example of film noir movies of the 70s to find out. Watch for Arnold Schwarzenegger in a very early acting role.
3. Double Indemnity (1944) – Fred MacMurray, Edward G. Robinson and Barbara Stanwyck star in this tale of greed an murder. An insurance salesman (MacMurray) is persuaded by a seductress (Stanwyck) to kill her husband. If he can make it look like an accidental death, the double indemnity clause in the insurance policy will pay double. Another classic film noir, it was directed by the genius known as Billy Wilder.
4. The Asphalt Jungle (1950) – Another legendary example of the genre and certainly deserving of a spot on this film noir movies list. The Asphalt Jungle was directed by John Huston, and it features an ensemble cast including Sterling Hayden, James Whitmore, Louis Calhern, Jean Hagen, and Marilyn Monroe in a very early role. A group of criminals plan and carry out a jewel heist, but things start falling apart in true noir fashion.
5. After Dark, My Sweet (1990) – Considered an example of a neo-noir film, After Dark, My Sweet is based on the Jim Thompson novel of the same name. Jason Patric plays an ex-boxer with mental problems who's lured into a kidnapping plot by a sexy widow. A perfect example of film noir movies of the 90s.
6. I Died a Thousand Times (1955) – A scene-for-scene remake of High Sierra, the film stars Jack Palance, Lee Marvin, Shelly Winters and Lon Chaney Jr. Palance is an aging bank robber hoping to pull one more big job, but things never work out so simple in the film noir universe.
7. The Spirit (2008) – I personally hated this film, but it's one of the few examples of new film noir movies. Based on a long-running comic book character, The Spirit is about a cop who returns from the dead to fight crime. At least there are lots of sexy ladies, but that's about all it has going for it. Still, watch the movie and judge for yourself.
8. The Lady from Shanghai (1948) – Directed by Orson Welles and starring Rita Hayworth, Welles, and Everett Sloane. A lovestruck sailor agrees to take part in a fake murder for a tidy sum of cash. He then plans to run away with the wealthy married woman he's recently started seeing. Remember that this is a film noir movies list, so you just know the sailor is going to get double-crossed. One of the great film noir movies of the 40s.
9. Body Heat (1981) – Another neo-noir movie, this time starring Kathleen Turner and William Hurt. When a sleazy lawyer (Hurt) meets a femme fatale (Turner), it's not long before the duo plan to kill her rich husband and take all his money. Filled with steamy sex scenes, this is the film which made Turner into a big star. The best of the film noir movies of the 80s.
10. Notorious (1946) – Following World War II, a group of Nazis have relocated to Brazil. An espionage plot is hatched to catch them, and Claude Rains, Cary Grant and Ingrid Bergman all become entangled in the lies and lust. Directed by Alfred Hitchcock, Notorious is another example of classic noir cinema.
Now that you've completed my film noir movies list, be sure to check out these articles:
Trackbacks/Pingbacks