Zombie Movies List
Tuesday, September 8, 2009 at 11:30 am
With this zombie movies list, I've tried to fit in a little bit of everything from the present day back to the '70s. If you're a fan of the genre, you've probably heard of several of these titles, but I'm betting that a few may have eluded you. And that's the whole point: to expose you to zombie films you might not have seen otherwise.
The comments section is a great place to share your own zombie movies list. After you've finished saying your piece, be sure to visit Netflix or your local video store to indulge in plenty of zombie goodness.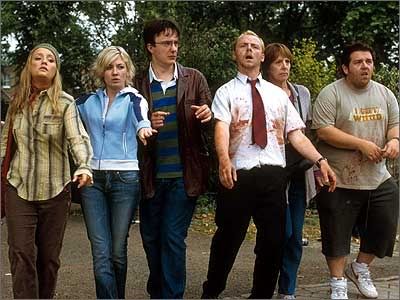 1. Zombies Anonymous (2006) – While it's far from perfect, this low-budget zombie film does have an interesting premise: anyone who dies comes back as the undead, but they retain all their intelligence. The central character is a young woman killed through domestic violence, and we see her difficulties adjusting to her new life as a zombie (including joining a support group for the undead). The last 20 minutes are incredibly confusing due to the distributor removing key scenes to shorten the film.
2. Chopper Chicks in Zombie Town (1991) – Before he was famous, Billy Bob Thornton appeared in this horror/comedy film from Troma. When zombies get loose in a small town, it's up to an all-female gang of bikers (named the Cycle-Sluts) to save the day. Oh, and don't forget about that busload of blind orphans just outside the city limits. When it comes to zombie movies of the 90s, this one is chock-full of zany goodness.
3. Bio Zombie (1998) – A Hong Kong zombie movie which lovingly spoofs many elements of George Romero's Dawn of the Dead. A group of mall employees must band together when a soft drink filled with an Iraqi biological weapon causes the dead to return to life. Another bizarre example of zombie movies of the 90s.
4. Shaun of the Dead(2004) – If you're a hardcore zombie fan, there's little doubt that you've already seen this genre masterpiece. While it pulls off the zombie element admirably, it's also a hilarious comedy which fires on all cylinders. Shaun and Ed are a couple of lovable losers caught up in a zombie apocalypse, and all they want to do is make it to their local pub and ride things out with a pint (and save Shaun's mum and girlfriend along the way). Simon Pegg is outstanding in one of the best new zombie movies to appear in years.
5. I Sell the Dead (2009) – Dominic Monaghan stars as a young man who falls in with a grave robber and gets caught up dealing with zombies. Awaiting execution for his crimes, he relates his story to a monk played by Ron Perlman. Another one of the new zombie movies to recently hit theaters, Angus Scrimm from Phantasm also has a role.
6. Tombs of the Blind Dead (1971) – Zombie movies of the 70s are sometimes overlooked, so I wanted to include this Spanish offering. The reanimated corpses of the Knights Templar kill a young woman, and her friends risk their lives to find out what happened. Since they're blind, the knights hunt by sound, leading to the film having several instances of uncomfortable silence as potential victims try to escape a grisly fate. The sequel, Return of the Blind Dead, is another example of zombie movies of the 70s.
7. Lifeforce (1985) – Any decent zombie movies list needs this flick from Tobe Hooper. The twist here is that the vampiric creatures come from outer space and drink a persons lifeforce instead of just blood. Combine killer vampires and an alien invasion, and you'll get an idea of what Lifeforce is all about. One of the best zombie movies of the 80s, and that's really something considering the other genre films released during the decade.
8. Outpost (2008) – A group of hardened mercenaries are recruited to escort a scientist to an old German bunker deep within war-torn Eastern Europe. The mercenaries think it's a simple way to make some cash, but nothing could be less true. Since it's only a year old, I still consider Outpost to be one of the new zombie movies.
9. House of the Dead (2003) – Everyone hates Uwe Boll, but I thought this film was pretty true to the video game it was based on. Sure, it's got its stupid moments, but it also features the acting magic of Clint Howard (Ron Howard's more successful brother). Case closed.
10. Evil (2005) – The first zombie movie from Greece, Evil was popular enough that a sequel will be released on October 1st, 2009 (and starring Billy Zane). Tons of zombie action and plenty of gore, as well.
If your hunger for good zombie movies still isn't satiated, you should peruse the following:
8 Responses to "Zombie Movies List"
Trackbacks/Pingbacks